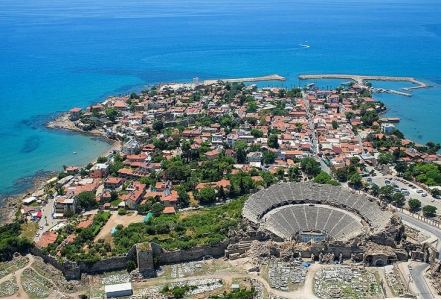 Antalya Side Easy Transportation
While Antalya Breaks records on domestic and foreign tourists in the summer, it is frequently visited under different topics. This city has a rich history for cultural excursions as well as sea sand and sun (3 S's). This city , which has hosted many civilizations from the pastto the present, has ancient cities and numerous mounds. Therefore , Side, which is among the most frequent spots of the city, hosts thousands of people every year. If you want both a pleasant holiday and a cultural trip, you can choose Side with peace of mind.
Well, let's say you preffered this important point. What alternatives can you use to come to this town from the airport? If you are looking fort he answer of this question, we provide you with the best qualified service. As one of the leading companies in the industry, we complete your Side transfer transactions as soon as possible. You can get reliable services by contacting us in line with your Antalya Airport Side transfer needs. Antalya Side transfer services are not a problem in our company, where the concepts of trust and  satisfaction are the most critical elements.
How Can We Return From Side
After a pleasant holiday, you may want to return to the airport or bus terminal from the region. If you do not have a personal vehicle, you will return to the city with other methods. We also provide convenience in return operations considering your satisfaction. We respond to your Side Antalya transfer requests extremely quickly according to your flight or other travel times. Your transfer to Side Antalya Airport is completed within the time zones you need to arrive at the airport.
How Far Is Side
You are approximately 65 km away from the airports and the center of Antalya, which attracts many visitors. We deliver you to the region on average after one hour of travel. Therefore, you are on a route that does not have much distance, because it is closer to the city. 
In order to have an affordable holiday, the firts choice of visitors in the region is all-inclusive hotels. In addition, affordable and quality hostels are often preffered in the city. Side is among the most suitable routes for a vacation planning that will help you relieve stress.